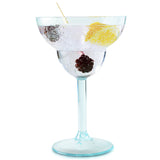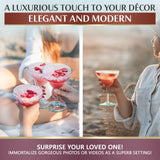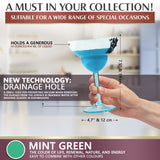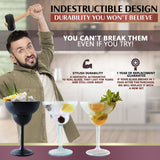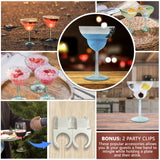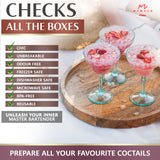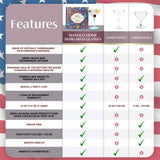 Mamaco Home
Unbreakable Margarita Glasses- 14oz Large Margarita Glass Kit - Elegant Gift Box - Reusable Giant Indoor, Outdoor Drinkware for Tequila, Martini, Cocktails GREEN
🍸 Take Your Fiesta To Another Level: These big margarita glasses hold a generous 14 ounces of liquid and will save you the fuss of constant refilling. The thicker rim makes them easy to salt, great for the Margarita fiesta. 

🍸 Enjoy Your Tacos Or Nachos Like Never Before: Our margarita set comes with 2 fancy cocktail clips that will fit on the side of your plate to hold your tall glass, leaving you one free hand for picking tacos, nachos, and snacks at the Margarita party.

🍸 Buy These Unbreakable Glasses Now And Use Them Forever: This unbreakable glass set is made of impact-resistant polycarbonate, more durable than standard plastic cups or acrylic margarita glasses, and will hold up through years of happy hours.

🍸 Sip All Your Favorite Cocktails In Style: Made of food-grade materials, our fancy margarita glasses are non-toxic, BPA-free, safe for any drink, and make great frozen margarita glasses, tequila sipping glasses, cocktail, or Martini glasses.

🍸 Spoil Any Margarita Lover Or Cocktail Enthusiast: Offered in a super-cool gift box, our margarita glass set is ready to offer as a housewarming, birthday, or wedding gift, tequila gift, cocktail gift, or Mexican gift to a special someone.
Interested in a larger quantity?

 Contact us

 

for wholesale B2B deals.
People who bought this product, also bought