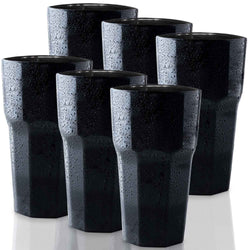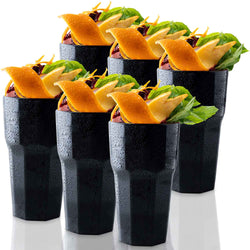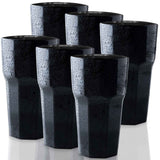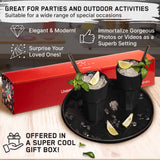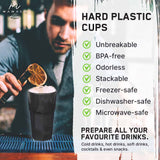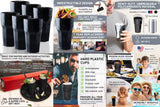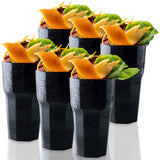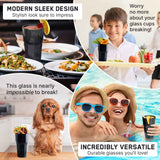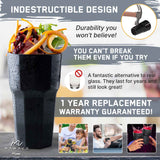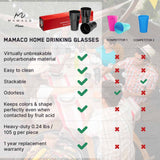 Mamaco Home
Unbreakable Drinking Glasses - Reusable Drinkware - Juice & Cocktail & Party-11 Oz, BLACK
UNBREAKABLE & INDESTRUCTIBLE: Hit them by a hammer and they will not break! If durability is a concern, Mamaco Home glass set is the way to go. They can withstand plenty of abuse without breaking or scratching. Perfectly designed for Restaurants, Hotels, Self-service areas, Parties, Daily home use, Formal entertaining, Patios, Poolside, Picnic, beach vacations & more.

KIDS & SENIORS SAFE & STURDY: Stress-free since you won't have to worry about these plastic glasses breaking if they're dropped. Made of 5* Hotel Quality, Polycarbonate material is a safer alternative to glass.

ELEGANT GIFT SET FOR ANY HOME: Premium drinking glasses set is an ideal gift for teenagers & adults | Perfect for Christmas, birthday, wedding party, baby shower, Valentine's day, anniversary, Father's day, Mother's day, housewarming, new years, college graduation, St. Patrick's day, Congratulations, job Promotion, stocking stuffers & more.

DISHWASHER & MICROWAVE SAFE: Estimated life span is 4000 times when cleaned in dishwasher machine! Top rack only. No cloudiness Suitable for use in deepfreezers, refrigerators, or microwaves. (Between -40 °F and 248 °F) |Stackable - easy to squeeze more into a small space.

ECO-FRIENDLY & BPA-Free. With plastic tumblers, chemicals are always a concern. Mamaco Home Tumblers are BPA free. New generation of reusable plastic drinking cups will not discolor, retain smells, or leach chemicals into your drinks.
This product is also available on Amazon with another quantity. CLICK below to see on Amazon USA
Interested in a larger quantity? Contact us for wholesale B2B deals.
People who bought this product, also bought