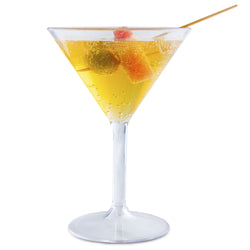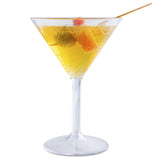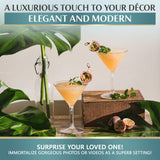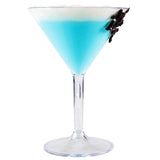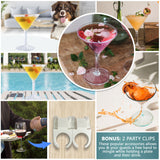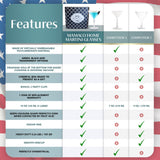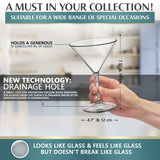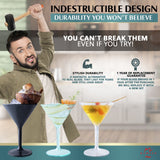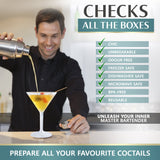 Mamaco Home
Large Martini Glasses - Shatterproof Polycarbonate Cocktail Glass Alternative - Green BPA Free Tumblers - Reusable, Easy Clean - Home, Parties, Weddings TRANSPARENT
🍸 SET OF 6 LARGE MARTINI GLASSES - Enjoy your favorite drinks with ease with Mamaco Home's stylish Martini glasses - they are the ideal kitchen cupboard addition! With their classic and traditional design, these large martini glasses are green in color for a chic, better drinking experience and are made from durable and strong polycarbonate. You'll also receive a free product with this set, as we've included 6 COMPLIMENTARY PARTY CLIPS.
🍸 PREMIUM QUALITY SHATTERPROOF POLYCARBONATE - Worry less about breakages, cracks, and scratches, with Mamaco Home's unbreakable cocktail glasses. Made from high-quality polycarbonate, this set of martini glasses provide a fantastic alternative to real glass. Polycarbonate offers a shatterproof and indestructible material, so it's perfect for outdoor activities! TAKE THEM TO THE BEACH, ON A PICNIC, OR ENJOY FRUITY AND CLASSIC COCKTAİLS IN THEM WHEN YOU'RE BY THE POOL. 
🍸 BPA-FREE, STURDY COCKTAIL GLASSES - Feel confident in knowing that Mamaco Home's products are always made to be BPA-free for your health and safety - the sturdy polycarbonate is safe for children and adults to use. They not only look and feel exactly like glass, but the best aspect of these cocktail tumblers is that they were made to last - they do not stain, discolor or retain smells, so you can use them for longer, and being polycarbonate, THEY'RE RECYCLABLE TOO-BETTER FOR YOU AND THE PLANET! 
🍸 This product is also available on Amazon with another quantity. CLICK below to see on Amazon USA
🍸 IDEAL FOR HOME, PARTIES, AND SPECIAL OCCASIONS - Looking for martini cocktail glasses for your next special occasion? At Mamaco Home we have developed the perfect glasses set for home events, parties, or romantic evening dinners for six. With a premium, sleek design and boxed in an elegant presentation box, they're great for gifting to loved ones and friends.
Interested in a larger quantity? Contact us for wholesale B2B deals.
People who bought this product, also bought